Risk Bulletin – Winter 2019

Aon's Professional Services team brings to your inbox, the latest insurance and risk sector news, up and coming Aon client events, new team members and the latest hot topics within the insurance industry.

In this edition:

Natalie Graham, Head of GBC Claims Advocacy - Financial, Professional & UK Specialty, explores the latest Claims Trends...
Trade Secrets, Patents And Intellectual Property
With $19 trillion, or nearly 85% of the value of the S&P 500 represented by intangible assets, investment in intellectual property has changed the global landscape across industries and regions. Many companies, however, have been slow to adopt new approaches to managing and valuing their intellectual property portfolios in a manner that fully captures value.
Is There A Link Between Risk Maturity And Stock Price Performance?
Significant events such as an M&A, new executive personnel or changes to business strategy can have a big impact on an organisation's risk profile and priorities, making it a pertinent time to assess if a risk management program is still fit-for-purpose.

Is it time to evaluate your risk management program?
Extension Of The Senior Managers Regime
With the extension of the Senior Managers and Certification Regime (SM&CR) to all FCA solo-regulated firms coming into force earlier this month, those firms who participate in FCA regulated activity need to be prepared for what this means for them.
Aon's Professional Services team are delighted to welcome some new members. Find out more about them and what their roles will be on the team.
Aon Sponsors Chelmsford Marathon
On October 20, Aon were the Headline Sponsors for the Chelmsford Marathon & 3k Fun Run.

#TeamAon were made up of colleagues from all different areas of Aon based in our London and Chelmsford offices, including our very own Marketing & Events Executive, Sam McSweeney!
Season's Greetings From Aon's Professional Services Team!
We would like to extend to you our warmest greetings for the season and wish you a Merry Christmas and Happy New Year!

Can you name some of the faces in our very festive tree?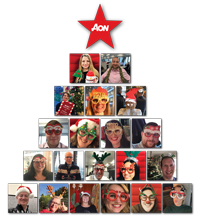 Is there a particular topic you would like us to discuss or would you like to take part in a client interview in a future edition? Please contact Samantha McSweeney